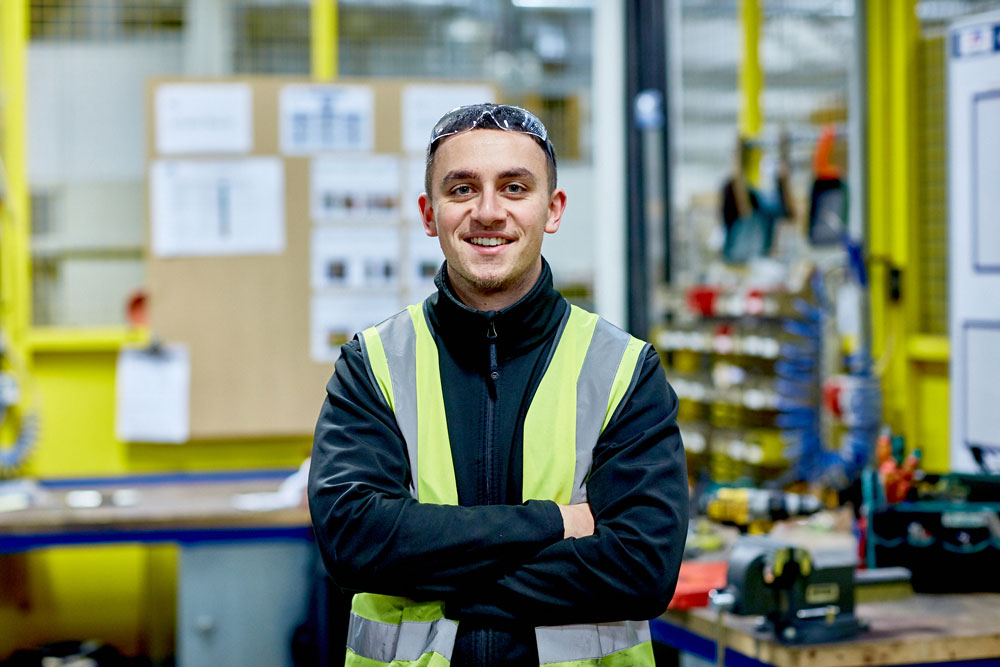 Autins is please to support National Apprenticeship Week 2020.
This annual celebration of apprenticeships brings the whole apprenticeship community together to celebrate the impact of apprenticeships on individuals, employers and society.
It gives us the perfect opportunity to introduce our current engineering apprentice Reece Vann and share why we think the apprentice programme has been so beneficial for Autins.
Reece, age 22 from Coventry, joined Autins as a Maintenance Apprentice in 2015. After over four years of study he's just completed his final qualification, a Level 3 Extended Diploma in Advanced Manufacturing and Engineering maintenance – Mechatronics Maintenance Technician.
He says, "My childhood interest in mechanical engineering is what bought me to the sector. My dad got me into cart racing, so I have been pulling things apart and trying to make them faster and more efficient for as long as I can remember."
Reece thinks that there is a lot of misconception about apprenticeships and how they might affect a person's future prospects in comparison to going to university. He says, "In today's world of student loans an apprenticeship scheme is a fantastic opportunity, especially in engineering as the UK is so short of qualified people. The potential for career growth is huge. Some of my peers are already managing large projects as the same time as completing their NVQs!"
"A lot of successful engineers I speak to took their apprenticeship first, and did university after. This has definitely been the best option for me and I feel it's really given me a head start for my future career."
Being an apprentice has enabled Reece to earn and learn at the same time. "Choosing the apprenticeship route has allowed me to enjoy certain aspects earlier on than others, as well as not having to worry about paying any form of student debt back at the end. Job security was also a strong incentive as I don't have to go out and find a job now I've finished my training."
Reece enjoys the variety of his engineering role here at Autins which involves reactive and preventative maintenance to keep our manufacturing operations running smoothly. He says, "Some days I'm modifying equipment, the next I'm stripping machines apart! I'm never completely sure what each day will bring, which is one of the reasons I enjoy it."
He said: "I've also have gained a lot of on-the-job experience during my training and have to thank the maintenance team at Autins as I have learnt a lot from them. They've really pushed me to learn about the machinery and become a better engineer."
And now he's finishes his training, what are his future plans? Reece says, "I would like to continue my education in more bespoke aspects of manufacturing engineering such as Robotics, as well get some additional electrical qualifications. Long term, I would like to move into management, but at the moment I want to focus on improving my skillset as there is still plenty to learn. I'm still trying to get a feel for where I want to be."
Autins' Group Engineering Manager, Dean Trappett said: "During his time with Autins, I have seen how Reece's confidence and competence has grown. He has implemented a key initiative for the plant which has helped to improve efficiency using the skills he has gained through his apprenticeship. His enthusiasm for the role and strong work ethic shines through making him an invaluable part of the maintenance team."
"Apprenticeships are a key foundation to any business. I started my own career as an apprentice and found working in different departments with different people really helped develop my understanding of how to work with people at all levels.
"Employing an apprentice demonstrates that we are thinking of the future and gives all individuals from operatives through to senior managers the chance to share their knowledge with the next generation of talent coming through. Autins' fully supports the apprenticeship programme and believes it is a great way forward for both apprentices and the company."