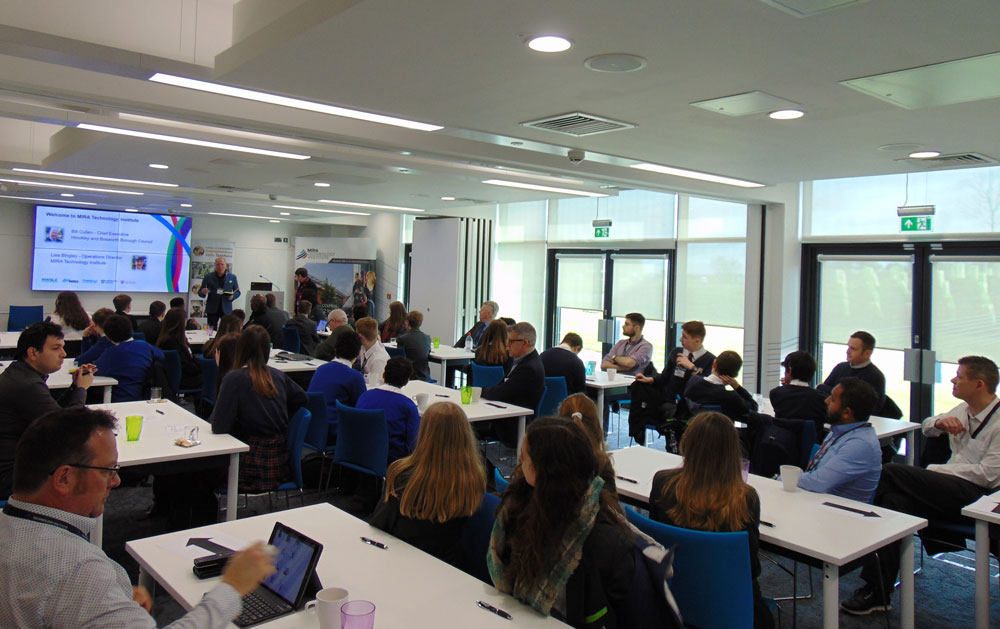 Autins Technical Engineer, Matt Jacobs, attended a networking event with a difference at the Motor Industry Research Association (MIRA) Technology Institute on 10 March. The twist was that attendees were not his fellow engineers but school children local to the institute, which is based on MIRA Technology Park just outside Nuneaton.
The event, sponsored by Hinckley and Bosworth Borough Council, was designed to give an opportunity for pupils from Years 8 and 9 to meet a wide variety of engineers with different backgrounds and find out about their occupations. The 12 to 14-year-olds got to question participants about aspects of their job roles and gain a valuable understanding of the breadth of careers available in the sector.
Deemed a great success based on feedback, a hundred percent of pupils said they felt inspired by the event and that engaging with the range of specialisms from electrical to mechanical engineering had changed their perceptions of what it meant to have a career in industry.
Pupils reported they thought the event was 'eye opening', a 'brilliant opportunity' and 'really informative'. They particularly enjoyed asking questions and 'hearing everybody's stories and experiences' from the world of engineering that included representatives from software and acoustic engineering.
Physics graduate Matt Jacobs works in the field of automotive acoustic engineering at the Autins Technical Centre, also located at the MIRA Technology Park. As part of his job role he undertakes a variety of acoustic and thermal testing and analysis, as well as contributing to our ongoing research and development programme.
Matt said: "When I left university I sought a scientific career that required the skillset I spent so much time developing, and R&D is exactly the field I was looking for. The emphasis is on really understanding an area or idea and then applying your knowledge into the new physical situations and scenarios.
"These outreach events are so important for encouraging young students into STEM (science, technology, engineering and maths) and it's a pleasure to be a part of them. Hopefully these young people will pursue a career in engineering and even come knocking on the door of Autins in the future!"
With the UK facing an acknowledged engineering skills shortage, Autins is committed to taking positive steps to help the engineering industry fill the jobs that are integral to this fast-paced field.