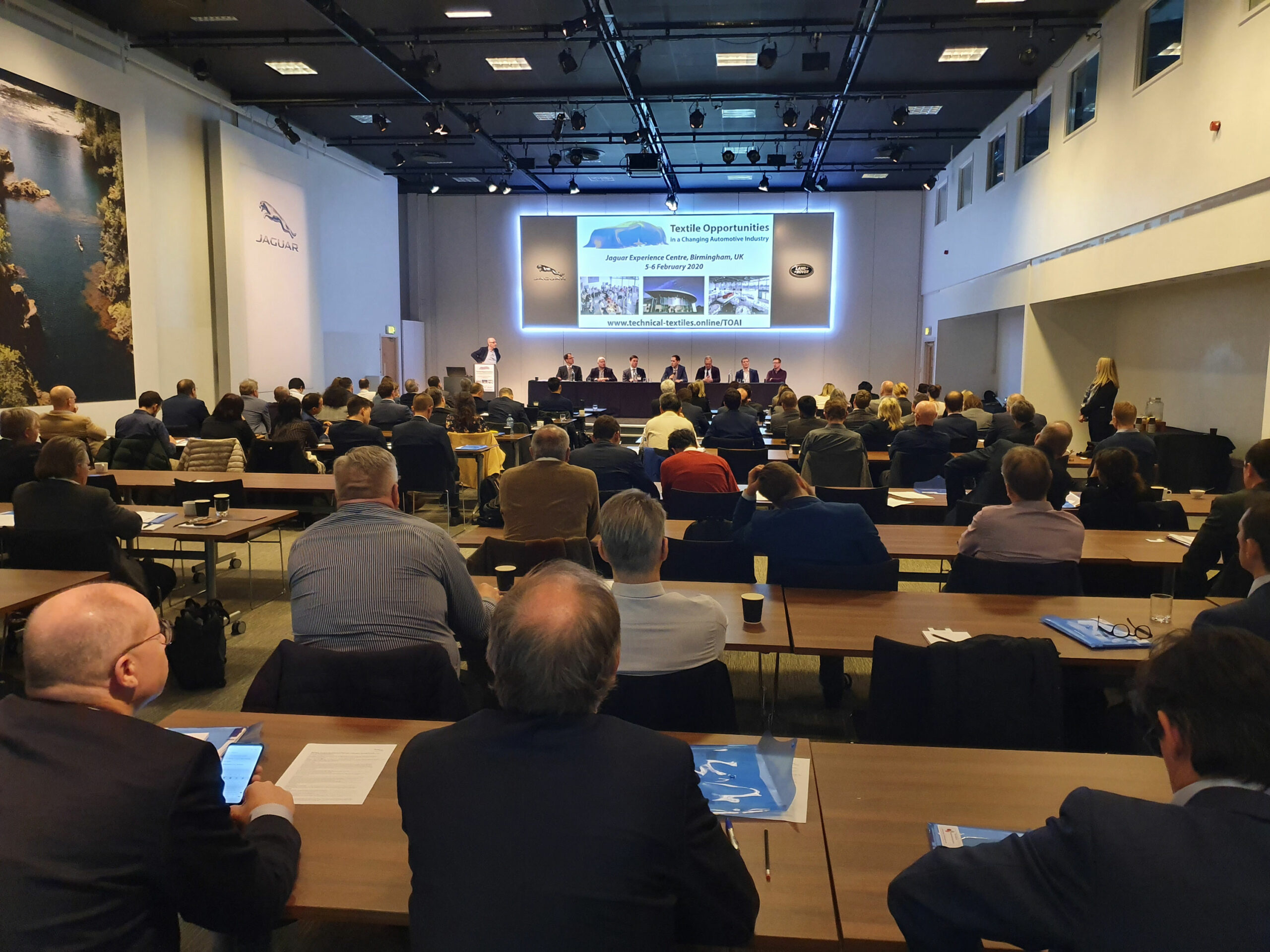 Key players from the global automotive industry gathered recently in Birmingham to attend the first-ever 'Textile Opportunities in a Changing Automotive Industry' conference.
The event held on 5-6 February at the Jaguar Experience Centre, was organised to explore how changes in the automotive industry will offer opportunities to OEMs and suppliers in a decade where the sector is facing the most disruptive transformation in its history.
The advent of autonomous driving, electric vehicles, restrictions on car use in urban areas, environmental regulations, the call for reductions in emissions and noise, as well as the sustainable use and re-use of materials, and associated changes in legislation are all driving revolutionary changes.
The presentations given over the two-day conference confirmed that textiles and nonwovens will contribute to the new mobility era by providing, for example, textile interiors with high levels of comfort for the occupant while reducing the impact of manufacturing on the environment, and new processes that offer waste-free recycled lightweight materials for interiors.
One of the expert speakers to address the conference was Dr Kathy Beresford, Group R&D Manager from Rugby-based Autins Group plc, an industry-leading designer, manufacturer and supplier of acoustic and thermal insulation solutions for the automotive industry and other sectors.
Dr Beresford, who heads up the group's Technical Centre based near Nuneaton, discussed the advantages of using software-based acoustic modelling to tailor product solutions for its customers. This technique is used by Autins during the development of new acoustic components, including those for electric vehicles such as the LEVC TX5 plug-in hybrid taxi launched in 2018.
Technical experts at the centre, located at the MIRA Technology Park, conduct acoustic testing and modelling, a variety of materials testing as well as a range of product development. Working closely with colleagues from Autins sites in the Midlands, Germany and Sweden, Dr Beresford and her team work with a wide range of customers – including many global automotive brands – to provide technical information, test data and develop bespoke product solutions.
With the growing appetite for electric and alternative fuel vehicles, Dr Beresford told the conference that Autins expects to see an increase in the demand for acoustic and thermal insulation as the removal of the traditional internal combustion engine has led to other noise sources becoming more apparent. She said "Noises both inside and outside the vehicles that were previously hidden by the engine noise quickly become noticeable and irritating to the vehicle passenger." As a result, Autins believes that there will be more need for acoustic insulation particularly where lightweight solutions with superior acoustic performance are required.
She told delegates that Autins believes the use of acoustic modelling and material characterisation will be the key to future product development and business growth as an acoustic and thermal solutions provider. Dr Beresford said "These techniques can shorten development timescales and increase our ability to balance different customer requirements – helping us to find the right balance between weight, performance and cost."
The new conference was devised and organised by publisher International Newsletters Ltd, and the conference chair was industry specialist and writer Adrian Wilson. He said "I think the conference programme successfully illustrated the sheer diversity of end-use applications for textiles in the automotive industry that already exist, and the potential for further growth, both through car manufacturers seeking to lower weight to reduce CO2 emissions and the push to develop alternatives to the internal combustion engine."