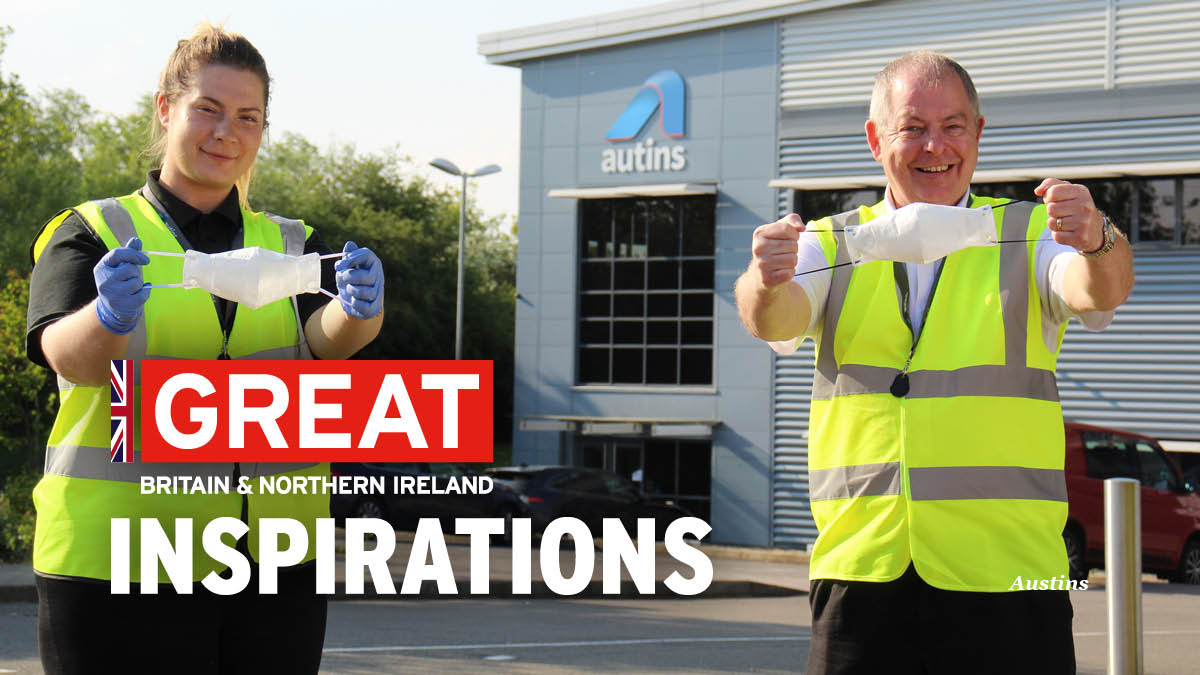 We are delighted to announce that Autins has received national recognition for its response to the Coronavirus pandemic by being named as one of the faces of the UK government's "GREAT Inspirations" campaign launched today.
As businesses across the UK reopen and adjust to operating under social distancing guidance, the "GREAT Inspirations" campaign celebrates those who have gone above and beyond for their customers, employees or communities by innovatively adapting to a new way of working.
Over 80 companies from a wide range of industries across the UK have been selected for the campaign, representing just a small proportion of the businesses that have adapted and delivered for their customers over the past few months.
Faced with a factory shut down at the end of March, Autins responded to the crisis rapidly, re-purposing our Neptune material usually used for automotive insulation to create water-repellent, washable face masks.
Within three weeks we went from establishing market demand, to creating a concept, a prototype, an online selling platform and receiving our first orders; a process that normally takes anything from three months to more than three years.
Autins' Chief Executive Gareth Kaminski Cook said: "Crises expose the culture of people, organisations and countries, so I have not been surprised to see how incredibly resourceful and kind-spirited British people have been during this COVID crisis.
"As CEO of the Autins Group I could not be prouder of what my teams have achieved and for being recognised in the Great Inspirations campaign, alongside so many other extraordinary business Champions."
"GREAT Inspirations" have fantastic stories to tell from the food suppliers who made sure vulnerable customers had full fridges, to manufacturers repurposing their production line to support the national effort. Others developed creative solutions to keep communities connected while some delivered socially distanced entertainment.
Dan Ramsay, Director of the GREAT Campaign, said: "The UK is an incredibly innovative nation and the businesses selected for the GREAT Inspirations epitomise this.
"In an incredibly difficult period they have adapted and found new markets, new customers and new ways of operating as well as helping their communities and keeping them safe."
"GREAT Inspirations" has been delivered by the GREAT Britain campaign, the UK Government's international marketing campaign, showcasing the best of Great Britain and Northern Ireland, encouraging the world to visit, study and do business with the UK.
The GREAT Inspirations can be viewed in full here.